Facility Scheduling for Schools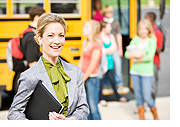 With ongoing budget challenges, it's more pressing than ever that schools get the most out of their facilities. Designed to meet the unique needs of schools, ScheduleSense™ makes facility scheduling easier and more efficient, while generating revenue at the same time.
School facility managers and administrators use ScheduleSense to:

Manage facility requests

Simplify the scheduling process

Coordinate resources required for an event

Notify others - security, risk management

Efficiently manage heating and cooling

Report on facility usage

Perform invoicing to recover event costs and generate revenue
Whether you need to schedule classrooms, gyms, tennis courts or playing fields at one school or a hundred, ScheduleSense scales to meet your needs.
The flexible, hierachical data structure facilitates the management of multiple locations and campuses using a single system.
ScheduleSense provides for common billing/accounting functions and consistent risk management practices through centralized management of facility scheduling operations district-wide.
Rich scheduling functionality that is easy to use and affordable makes ScheduleSense the sensible choice for educational facility scheduling.